Why it is significant for RCBs to Professionalize and Recognize Mobile Bankers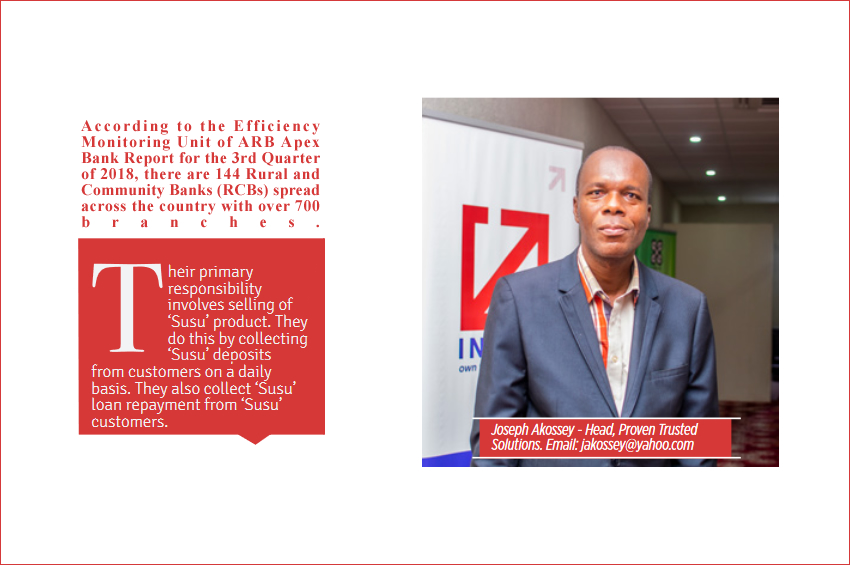 According to the Efficiency Monitoring Unit of ARB Apex Bank Report for the 3rd Quarter of 2018, there are 144 Rural and Community Banks (RCBs) spread across the country with over 700 branches. Their primary responsibility involves selling of 'Susu' product. They do this by collecting 'Susu' deposits from customers on a daily basis. They also collect 'Susu' loan repayment from 'Susu' customers.
Furthermore, they prospect for new 'Susu' customers as well as handling complaints. Some are expected to do cross selling.

It is significant to note that some RCBs have different job titles for their Mobile Bankers. Some RCBs use the title Sales Executives while others use Field Tellers.

It is worth mentioning that Mobile Bankers have helped scores of RCBs to grow their deposits. For example, the total 'Susu' deposits of Atwima Kwanwoma Rural Bank for 2017 was over GH¢19 million. Otuasekan Rural Bank's 'Susu' deposit for 2017 also stood at GH¢16,597,999.

Mobile Bankers play a critical role in rural banking and hence management of RCBs must professionalize and recognize them. This implies that, they should be helped to conduct themselves in a professional manner when dealing with existing and prospective customers as well as other stakeholders.

This article will therefore consider the reasons why RCBs should professionalize and recognize Mobile Bankers and how it can be done.
REASONS WHY THEY SHOULD BE PROFESSIONALIZED AND RECOGNIZED

1. They are the organization in the customer's eye.

Mobile Bankers are a link between RCBs and 'Susu' customers as well as the general public. More importantly, they personify RCBs in the customer's eye. As representatives of RCBs, everything they do or say can influence customers as well as public perceptions of RCBs. Therefore, it is important for RCBs to professionalize them to help them conduct themselves well so as to project a good image of RCBs. It is significant to note that, Mobile Bankers are the public face of RCBs due to their high visibility. They are known by the public more than the other staff members and hence they should be recognized.

2. They are the brand

Mobile Bankers are synonymous with RCBs due to their high visibility and their regular interaction with existing and potential customers. Moreover, they usually put on branded apparels and corporate wear of the bank, which helps for easy identification of particular RCB brands.

In view of the fact that they epitomize the bank's image, their negative attitude and behaviour can dilute the brand instead of enhancing it. It is therefore significant for RCBs to professionalize them and build their capacity so that they can reflect well on the brand values and vision as well as the bank as a whole.

3. They are marketers

Mobile Bankers perform the role of marketers. Why? They sell 'Susu' products, handle customer complaints and objections, cross sell bank products, prospect for new customers, among others. As marketers, they should be professional so that they can discharge their roles effectively as well as remain customer focused. This will translate into customer satisfaction and loyalty.

4. They are catalysts for growth in deposit

The market size and potential of the 'Susu' market are huge. This is due to the fact that a large chunk of business customers are in the informal sector of the Ghanaian economy. These customers perceive the 'Susu' product to be convenient and attractive. Therefore, when Mobile Bankers are professionalized and recognized, they will be able to mobilize more 'Susu' deposits to help grow the deposit portfolio of RCBs.

5. The role of the Mobile Bankers is stressful and demanding

The role of a Mobile Banker is demanding and stressful and hence they should be recognized by RCBs. Why am I saying so?

Mobile Bankers walk a long distance under the scorching sun every day to visit customers to mobilise deposits. They also go through emotional labour. This occurs when Mobile Bankers are supposed to suppress their true feelings in order to display certain positive attributes such as empathy, friendliness, smiles, courtesy among others, when interacting with existing and potential customers. It is even alleged that female Mobile Bankers are sometimes subjected to sexual harassment by their male customers. It is important to note that, some 'Susu' customers are difficult and overly-demanding, thereby making the work of Mobile Bankers very stressful.

In addition to the above points, Mobile Bankers deal with conflicts such as person/role conflict, organizational/client conflict and inter-client conflict.



HOW TO PROFESSIONALIZE AND RECOGNIZE MOBILE BANKERS

1. Provide effective and regular training programmes

Considering the fact that the vast majority of Mobile Bankers are Senior High School leavers and therefore lack professional skills, they should be provided with regular training, to improve on their skills so as to conduct themselves in a professional manner.

2. Dignify and respect Mobile Bankers

It is sad to say that some managers and staff of some RCBs do not recognize Mobile Bankers. They view them as outside the mainstream staff, people with low qualifications and a lowly job. It is worth mentioning that their job title and low qualification do not matter. What matters is the role that they play and its impact on the performance of the bank. Therefore, RCBs should respect and dignify them because they are internal customers and partners for deposit growth.

3. Job Promotion

Mobile Bankers who are high performers and have the requisite qualification should be promoted to occupy different position.

4. Standard of professionalism

In order for Mobile Bankers to act professionally, RCBs should have standards of professionalism that Mobile Bankers are expected to adhere to. The standard should spell out professional attitudes and behaviours (desirable behaviour) that Mobile Bankers should display and those that they should avoid.

5. Provide feedback

'Susu' Coordinators/Monitors should regularly offer feedback to Mobile Bankers as to whether they are demonstrating professionalism in their work or not. This will go a long way to aid Mobile Bankers in improving their professional kills. 'Susu' coordinators and managers who work hand in hand with Mobile Bankers should endeavour to set good example when it comes to acting professionally. This will no doubt, inspire Mobile Bankers to imitate their examples.

Conclusion

Mobile Bankers play a pivotal role in deposit mobilization and therefore they should be supported to help improve their professional outlook and behaviour.
| | |
| --- | --- |
| | |