The Ghana Commodity Exchange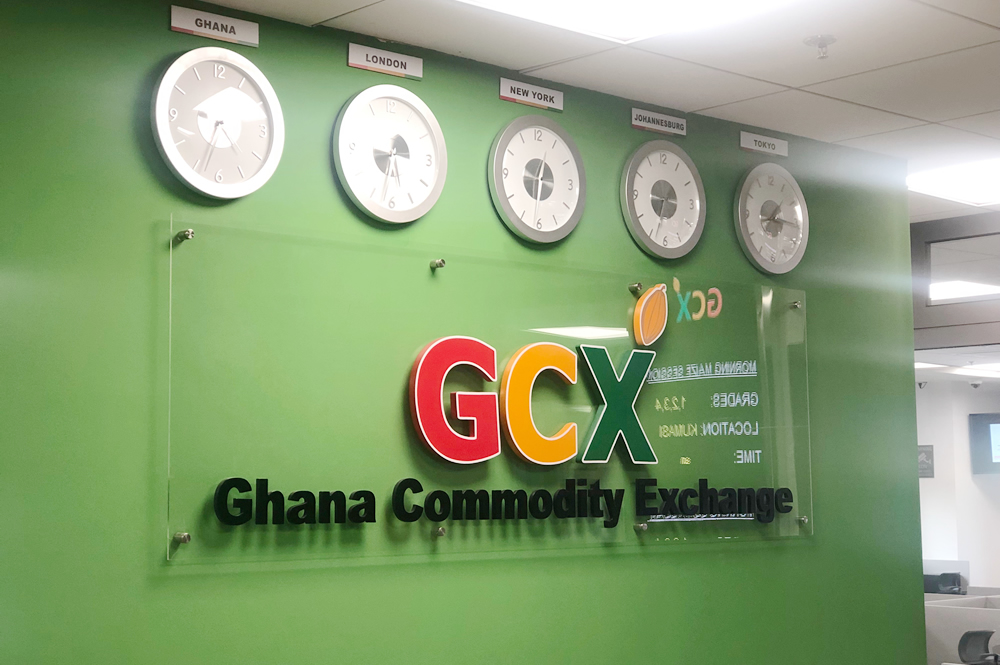 The Ghana Commodity Exchange (GCX) has been established to automate existing marketplaces in Ghana and West Africa in support of agricultural development and capital markets.
GCX strives to transform Ghana's agriculture by linking smallholder farmers and other value chain actors to markets and opportunities, including providing accurate and reliable information, new methods of, and access to, secured storage, and increased penetration of credit and agricultural financing. Additionally, GCX seeks to increase Ghana's national and international trade competitiveness
by building economies of scale, deepening capital markets by creating greater liquidity, and improving transparency in markets. GCX will increase liquidity in commodity market and enhance price discovery, improve existing value chains by linking production to high value markets and increase farmers' bargaining power and share of created value;
GHANA COMMODITY EXCHANGE SERVICES
As part of the operations of the Ghana Commodity Exchange to transform commodity trading, the underlisted are some services provided to GCX members to facilitate smooth running of the Exchange and trading in general.
Secured Storage with Grain testing facilities
GCX operates certified warehouses located at grain producing communities of Ghana to ensure easy access to farmers and provide professional storage for suppliers of commodities. The warehouses are well equipped to receive, clean, dry, grade, re-bag, and weigh grains into standard bag sizes, store the grains, undertake regular fumigation and de-infestation, stock management, risk management, auditing, delivery and meet other fiduciary requirements until the grain goes to the final consumer. Each warehouse is linked to farmer cooperatives cultivating commodities traded on the GCX platform. The cooperatives are registered with GCX as members and provided with all the training and necessary support to deposit and trade their grains across the Exchange platform.
Grain Quality Improvement
GCX provides cleaning, drying, grading, weighing, re-bagging and packaging based on the already established Ghana standards. This processing ensures that the grains are fit for human consumption, as well as increase its market appeal to offer the opportunity for sale at premium prices on the market. The ability of the grain to meet the quantity and quality needs of the market, which includes the health needs of the market, are guaranteed by warehouse managers throughout the duration of the storage period, which is estimated at three (3) months.
After three months if the grain is not consumed it is re-certified and issued another receipt. GCX staff are trained to identify grain agents of decay and possible infestation and diseases. These factors of quality and quantity decays are addressed before they materialize.
Electronic Warehouse Receipts
Commodities traded in GCX warehouses are sold through the transfer of ownership from a farmer to a buyer, with both well aware of the condition of the grain sold well in advance before settlement. The warehouse receipt is a document that provides proof of ownership of commodities (e.g., maize) that are stored in a warehouse, which can be sold or given as a guarantee to secure a loan. The GCX Electronic warehouse receipt represents the stored commodity held in a GCX certified warehouse.
The grains' quality is defined by the grade, when the grain quality and nutritional attributes stated is likely to be compromised, length of stay in the warehouse, when the grain was harvested, if its new or old crop, which farmer or cooperative produced it, when it was stored with GCX, facilitating traceability to the producer of the grain and the farming method used.
Food Safety Guarantees
Products that are deposited at a GCX certified warehouse are fully guaranteed for their safety from insect's infestation, fungus, aflatoxins infestation for the entire duration of their storage. The public is assured that this food will be delivered safely to them according to the promise GCX made on their warehouse receipts. The buyers of the grains would be fully compensated by the GCX should there be any change in the quality or grade of the product delivered to them. Upon delivery, GCX undertakes checks to ensure that the quality of the food that was traded as defined by its grade is transferred to the buyer on behalf of the seller.
Reliable, Fair and Transparent Price Discovery process
GCX will operate a fully automated electronic trading platform, with a central depository. In the near future, the Exchange is looking to deploy an easy to access mobile trading application where traders can buy and sell products from the convenience of their offices, homes, farms. However, trade is currently carried out by floor reps on the trading grounds of the Exchange located at the office of GCX. This trading platform provides opportunity for the convenience of trading at low cost, as well as securely, without worrying about market manipulation or price manipulation. Bids and offers are posted securely, and fairly to discover prices which is fair to all market actors.
Provision of Daily Commodity Prices to Facilitate Trade
GCX meets its vision to ensure that trade is done based on accurate and real time price information. This will ensure that traders buy and sell on the Exchange based on accurate assessment of their business cost, provide opportunity for traders on tight budgets and are therefore price sensitive. GCX will disseminate market prices to traders through SMS messages, its websites and other media sources. Availing price information to market participants positions GCX as a key price reference point for tradable staples and allows all market participants—even those who do not trade with GCX —to have a stronger negotiating position. A real-time price information system also enables policy makers to identify locations with surplus and helps combat food shortages on the national and regional levels.
Secured and prompt trade settlement
Lengthy trade settlement time between buyer and seller was identified by GCX as being among the top challenges affecting unstructured trade markets in Ghana and West Africa. One of the greatest risks faced by buyers and sellers is not receiving the right commodity they have bought or cash for what they sold on time respectively. This prevents sellers from achieving a predictable and consistent cash flow, and delays buyers in meeting inventory. GCX will address this impediment by securing the commodity in advance in its warehouses as well as requiring buyers to make a pre-trade cash deposit in a designated settlement bank account managed by GCX settlement banks. After a transaction is complete, GCX will ensure that sellers are paid and buyers receive full delivery of goods within 24hours (T+1) after trade.
Secured and reliable delivery locations
GCX warehouses will be fully equipped to deliver commodities within two days of transfer of ownership from the owner to a buyer and commodities will be checked before they go on transit. GCX will ensure that a certificate of delivery is issued and is in conformity with what was sold to the buyer. There will be a mechanism in place to resolve disputes associated with difference in what was sold to what was actually delivered.
Capacity Building for farmers, traders, market actors
GCX provides training to build the capacity of all market participants to enable them use the Exchange's products. This is based on needs assessment and identification of each trader. The training will target to increase understanding in commodity marketing, commodity pricing, commodity standards, trading by contacts, commodity safety issues, quality assurance etc.
Linkages to source grain from the wider
West Africa Community market
The GCX's trading platform and marketing system will connect buyers and sellers at low cost across the West Africa Community (WAC). Buyers can source for good quality grains that meet GCX standards at competitive prices, as well as sellers across WAC can place their grains on GCX platform to attract the attention of buyers. GCX reduces counterparty risk of the buyer and seller by becoming the central counterparty to each trade. Traders anywhere in the WAC and beyond will benefit from GCX guarantee of each trade. Additionally, GCX will provide real-time, accessible and transparent price information, thereby reducing the price asymmetry that is characteristic of African agricultural markets.
Reliable Stock Balance Sheet reporting
Heightened transparency and a stock data trail with respect to transaction volumes and prices, trading partners, timing of trades and other aspects will ensure that accurate data is provided on national grains balance sheet. Under-reporting will be addressed to facilitate accurate forecasting.
These services are available to interested individuals and organisations in the agricultural value chain. More information can be found on the website – www.gcx.com.gh.
ABOUT GCX
The Ghana Commodity Exchange is a private company limited by shares, structured as a Public Private Partnership, with the government of Ghana currently the sole shareholder. The aim of the exchange is to establish linkages between agricultural and commodity producers and buyers, to secure competitive prices for their products, assuring the market quantity and quality as well as timely settlement of their trade.
| | |
| --- | --- |
| | |