Telling the AMENFIMAN RURAL BANK Story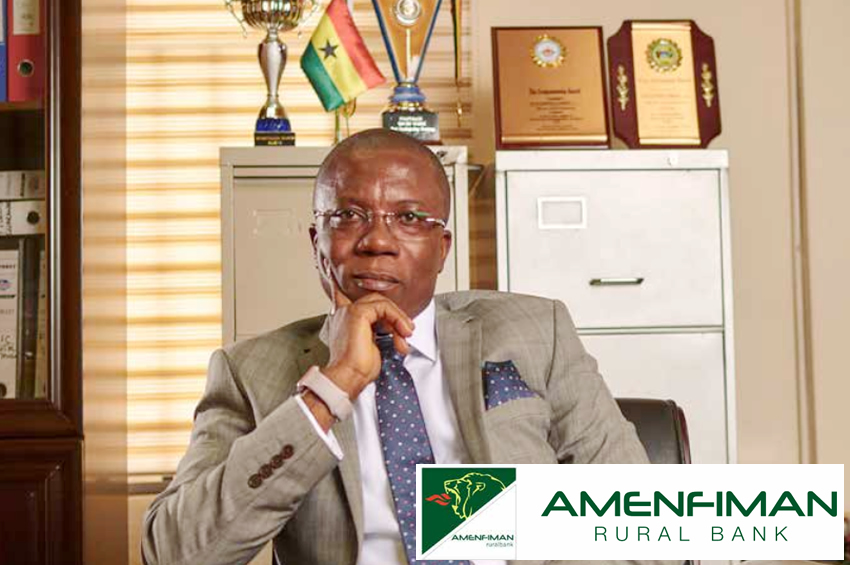 Amenfiman Rural Bank is one of the most celebrated Rural Banks within the RCB fraternity. This edition of The Rural Banker features the life, journeys and leadership philosophy of the CEO of the Bank, Dr. Alex Asmah (AA)
TRB: Can you please tell us a few things about yourself? (Education, family and how long you have been CEO of your Bank).

AA: I come from the Western Region. I am actually from Wassa Akropong and I had my Secondary Education at Asankragwa Senior High School. I continued to the University of Cape Coast to read BSc (Commerce). After my first degree, I did my National Service at St. John's Senior High School in Sekondi, where I taught Financial Accounting and Cost Accounting, then I started my first job at Amenfiman Rural Bank as a management trainee and rose through the ranks to become the Head of Banking Operations. I left to Barclays Bank and then later on in 2011, I got an opening at Amenfiman Rural Bank as the Chief Executive Officer (CEO). But in the course of working too, I took up an MBA (Banking and Finance) from the Paris School of Management and later on, I did a Doctor of Business Administration, DBA (Leadership & Global Business) from California Intercontinental University in the USA. So I have been CEO of the Bank from April 2011 till now. I am married to Gloria and we have four children, two boys and two girls, Nana Ama, Tony, Erica, and Papa Asmah.
TRB: What are some of the major challenges you have encountered since becoming CEO and how have you resolved them?
AA: Thank you very much. About challenges, I have gone through several issues since I became CEO of this Bank. But the Lord has been good to us and the Board has also been extremely supportive. Starting from the very moment I took over in 2011, the first challenge I met was that there was no management in place. And there was no handing over process too, so essentially, I took over without having anybody to go to. The issue was that my predecessor had some financial misappropriation issues and left unceremoniously. The Board set up a three-member interim management committee (IMC). And then they began the search for a new CEO. By the time I got the appointment as the new CEO, all the three members of the IMC had resigned. So I didn't meet any of them at post. At that time, the Chief Internal Auditor had also retired and there was no management. Navigating that was quite challenging. We needed to act very fast but carefully. One important thing was that I didn't begin with a high. Because I had worked here before, I had a very good understanding of the environment and how things work. I quickly looked through and put some people together in acting positons to form a management team and started work.

The second challenge I encountered was that of reconciliation. Since the previous CEO left office, reconciliation for the main clearing account was outstanding for more than a year. And inter-branch also not reconciled for more than a year; I could remember very well that at a point that we were to meet with the Apex Bank team, there was no reconciliation team to reconcile the books. That was the time we were doing manual banking, we had to carry boxes of outstanding items. To confront that issue was very daunting because there were imminent risks of fraud issues hiding in, wrong payments made to people and so on. In the course of that, a lot of things came up. For example, a cocoa company that we were dealing with had made a transfer, at that time, of GH¢600,000 to us and we had paid it twice and it was hiding in the reconciliation and nobody knew it and cash had gone out. So we needed to go back to the company and explain it to them. Somehow, they knew it but because we didn't know, they were keeping it and when we threatened to go to court then they brought a payment plan. They issued cheques and cleared the amount in three tranches. We came across fraudulent deals that had been done and hidden. But by the grace of God, we assembled the team, we didn't have a reconciliation team, we had to set up a reconciliation unit to start addressing reconciliation immediately. I can tell you that for several years now, we have not had a single outstanding reconciliation issue. Another issue that I was also met with was that the morale of staff was really low. I remember that at the time I came, the Board had granted a salary increment to the staff and the staff said they wouldn't accept the increment. So instead of implementing the salary increment in January, I came in April and the salary increment had not been implemented. Even the Human Resource Manager at the time was part of the people who were agitating. They had collected salary structures from top Rural Banks that were doing well, and they did not want to take anything less. Budget had already been prepared, the previous year 2010, the Bank made a profit of GH¢347,000, and in the 2011 budget, a GH¢687,000 profit was projected and inside that budget was a salary increment of 15 percent, which the staff rejected. So I asked the Board in my first meeting to give me the opportunity to take another look at the budget and I went through the budget. Having worked here before, I put together a team and said, let's review the budget. We did the review and saw that we could actually do more. So I did a bargain, I went to the staff and told them that there is no way we can pay you with the salary structure of Atwima Kwanwoma, because they are producing something which is backing that pay structure. Let us also work out our own and let it become a reference point for other people to copy. So, we did the revision and had a profit projection of GH¢1 million and factored in a salary increment of 50 percent across board. I came to meet the Board in my second month on the job and everybody was like, can we do it? How can you come in and say you are increasing salaries by 50 percent? The Board said they did not believe in the figures. After a long debate, one of the directors told me, "young man, if we give this salary increase and you don't deliver, you are fired". I took up the challenge and we had to do a lot of road shows. I met the staff, engaged them and had to make them understand what was in it for us if we achieved our target. I realized that from the Business Development perspective, we were not doing much, so we set up a Marketing Unit and then we put together young and enthusiastic people and allocated a pick-up truck to them and gave them targets. We asked them to go round. Things started picking up and by the end of 2011, we made a profit of GH¢1.1 million, we paid the salary of 50 percent across board and because we made a profit above what we projected I went to make a bargain for the thirteenth month pay and this was accepted and has since been in place. Thanks to the Board Chairman, Dr. Tony Aubynn, who accepted the proposal for the thirteenth month and I went to all the branches to sell the idea to the staff and today, everybody is happy.

One big issue that I also encountered was lack of confidence from the public. Because in the previous two to three years, the Bank was struggling to keep up with liquidity requirements, the Bank stopped granting of loans to customers. So people started moving their accounts from the Bank. We had to take that up and work on it and we were able to restore the loans.

I also went round the branches and the image, the way our staff were dressing, our appearance, someone would be wearing yellow shirt with black tie, there was nothing connecting or exciting about the Bank. Our offices were not in the best shape, so we had to start working towards rebranding and modernizing our branches. We decided in 2013 to change our logo and rebrand to create a new image out there – and so far, I think it has gone well.

We also had a very high impairment ratio, which we had to tackle head on.
TRB: How exciting has the journey been so far?

AA: I must say it has been very exciting. For me, one of the things that motivated me from the initial stages was that through discussions, I got to know that one of the considerations of the Board was that even though I was successful at the interview, the recommendation from the Board and even an external person was "the guy is good, but he is too young". I was 34 then and so somehow, I felt I had to do everything to justify the confidence for them to know that given the opportunity, young men can also do something and also given that I am from the area, young people would not be denied the opportunity because if I fail, next time a young man wants to become a Member of Parliament, they would use me as the reference point. So, I knew I have to do everything to succeed. It was really a motivation for me. I must say that I was lucky to have a Board, which understands business and so my Chairman in particular, most of the things I have been able to do, I have been able to do because he believes in me. The exciting part of it is seeing a lot of the things we brought on board working well and the outcomes showing. I see the number of young people who are employed here and are growing their careers, it's very exciting. At the time I took over, the Bank had a total staff strength of 79 people and as we speak, we have a total staff strength of nearly 400. Personally, I enjoy helping people to develop, so I take talent development issues seriously. There are some of the people that I see potential in them and I have become their personal coach.

TRB: What are some of the key successes the Bank has chalked under your stewardship?

AA: The Bank has really come very far and from the industry statistics, we have really grown over the period. For example, from the financial results, the Bank had made a profit of GH¢347,000 in 2011 and you see the Bank grows in profitability and as at 2016, the Bank had made a profit before tax of GH¢9.9million and profit after tax of GH¢8.2 million. If you see the growth of our balance sheet, from GH¢18 million in 2010 to GH¢182 million in 2017, our deposits grew from GH¢15 million in 2010 to GH¢148 million in 2017, shareholders' funds grew from GH¢4.8 million in 2010 to about GH¢28 million in 2017. The growth in our financial performance has really helped us.We have been returning good value for our shareholders. At the time I took over, we paid a dividend of 1 Ghana pesewa per share and now we are paying 6 pesewas per share as at last year. I took over a branch network of eight, now we have a branch network of 16 and I think we have positioned the Bank very well for the future. Key amongst the many awards we have won is that we have been on the Ghana Club 100 consistently for some time and for the past four years, we have been on top as the industry's leading Bank.
TRB: What are some of your key corporate social responsibility (CSR) projects?

AA: One of our key corporate social responsibility (CSR) progammes is the Amenfiman Rural Bank Educational Excellence Award Programme. The programme was originally introduced by the Omanhene of the Wassa-Amenfi Traditional Area, Tetrete Okuamoah Sekyim II in collaboration with the National Commission for Civic Education (NCCE). The programme is meant to change the attitude of students towards education as well as boost their confidence at school.The programme was launched in December 2017 with an initial beneficiary of 51 Senior High School students. The second batch of the programme saw a total of 93 students being awarded various items including school bags, the Constitution of Ghana, dictionary, mathematical sets, note books, exercise books, pens, etc. The total cost of the programme is borne by the Bank. As headline sponsors of the programme, we hope to extend our support to cover many more Senior High School students in our catchment area.
TRB: Given the rising competition in the financial services sector, particularly from the micro-finance institutions (MFIs), can you kindly share with us the strategy your Bank is adopting to stave off the competition?

AA: Competition has really worked for me. If you asked the secret of what has really brought us this far, apart from my Directors and the staff, the next thing, which has brought us this far is competition. This branch had only five deposit mobilisers, we called them 'susu sales executives' and we thought we were okay until the influx of Savings and Loans and Micro-Finance companies. A lot of them came, some are still around, but three collapsed. People were worried and my Directors were pleading that we needed to do something different otherwise, we were going to lose our customers. When the MFIs started hitting us here, we realized we needed to see the opportunities outside here. We did our market scanning and by the time we finished the plan, we had put out 21 'susu sales executives'. And every one of the 21 was able to meet the targets set for him/her. So the year that we experienced this exponential growth was 2013, which was the time the community witnessed the influx of MFIs. We never had any location in town, people started complaining that if they had to come to the branch, they had to pick taxies GH¢1 in and GH¢1 out. So they said they won't come. So, we bought some two small cars for cash mobilization in the town, which did not work well. We then decided to apply to the Bank of Ghana to allow us to open a small branch in the town and as we speak, that small branch is holding over GH¢5 million in deposits. It means all this potential was there and if the competition had not come, we could not have come this far. So, the point is we see the competition as an opportunity to grow. It really brings the best out of us and some of the things we were not doing for our customers in the past, we are now doing them. Because others have come and are offering them, most of the places we are very competitive, for example, almost all the banks are in Tarkwa, but we are making it there.
TRB: How easy or otherwise has it been, carrying the staff along with you in the current direction?

AA: Initially, it was tough, because people are used to a certain way of doing things. Because I was coming from Barclays, which had a disciplined environment, there are certain things I would not allow to happen. For example, they would load money (specie) here before going to town to pick a police guard. If I see it, I scream and sometimes because the people are older, they think I am a small boy, but you need to let them know that they couldn't do things anyhow. One of the other things I also did was to move away from being the typical CEO and allow them to socialize with me. For example, on a typical holiday, the staff would buy a goat, come to my house, kill it, cook and we shall all have a meal together. They would bring the public address system they use for marketing to my house and we would all eat and make merry together. Sometimes, some of my Directors join this socialization sessions and by the time we are winding down, the staff would have told me things they would ordinarily not have told me in the formal working environment.
TRB: How collaborative have the Board of Directors and shareholders been?

AA: The Directors have been very cooperative and supportive and thumbs up to my Board Chair, Dr. Tony Aubynn, he is an amazing individual. Sometimes, I think about some proposals and I am already scared but when I sit down and break it down for him and once he buys into it he would present it to the other members on my behalf. But I don't expect everybody to buy into all the things. I remember that some of the things we did, some of them told us to put it on record that they were not party to the decisions, because they do not support the things we were doing. But when it turns out successful, they begin to support us. From the shareholders' perspective, over the years, we have had some minority shareholders who are the loudest. They brand themselves as the concerned shareholders. They write letters seeking explanation to a lot of issues. Last year, they were all over the place at the annual general meeting (AGM). They always have their own agenda. Last year, they came and said they had brought their own Director who they wanted to be put on the Board. But all in all, they serve as checks on the work we do.
TRB: What are some of the tangible benefits your management has brought to the shareholders and depositors of the Bank?

AA: For the majority of the shareholders, they are very happy and because of the value we have been returning to shareholders over the years, a number of institutional investors are ready to invest in the Bank. Currently, the Board is carefully looking at proposals from some institutional investors. We want to be careful so that we can also protect the interest of the larger public.
TRB: What are some of the key lessons you have learnt over the years, which you would like other CEOs and General Managers to pick a leaf from?

AA: I will say that what has worked for me is my ability to win the trust of my people. It is important that you have the trust of the Board, it is important that you also have the trust of the people. If you do not keep your integrity right, then people cannot trust you. If something is not working right, I go to the Board and I tell them that, we have challenges in this area and they support me to deal with them. And to my staff, whatever task I give them, I tell them what is in it for them. We have rolled out many initiatives that have been beneficial to the staff. What I have also realized is that being CEO of a Rural Bank may not be immediately rewarding financially. Things work slowly. The concept that I know is that we create and share. If you have not created, you cannot share. It requires patience. As you improve upon the business, the business would also return some tangible benefits to you. When I joined, the Bank had just three cars, so I was using one of the pick-up trucks to do all the rounds. But when we improved upon the business processes, I am driving a new car. So if you are not patient, you would run ahead of yourself. So you don't run and engage in some fictitious deals and tomorrow when your glory is about to come then the deal is discovered. That would destroy you.
TRB: Thank you very much for talking to "The Rural Banker".

AA: I appreciate it
| | |
| --- | --- |
| | |