Stephen Sarfo Kantanka - CEO, Atwima Kwanwoma Rural Bank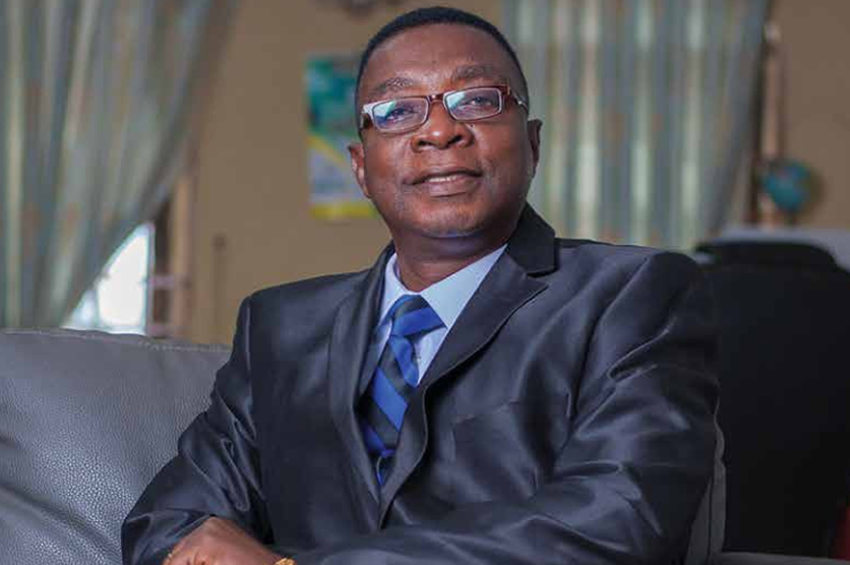 My name is Stephen Sarfo Kantanka, CEO of Atwima Kwanwoma Rural Bank Limited. I attended school at Asante Mampong in the Ashanti Region where I obtained my "O Level".
My name is Stephen Sarfo Kantanka, CEO of Atwima Kwanwoma Rural Bank Limited. I attended school at Asante Mampong in the Ashanti Region where I obtained my "O Level".
I proceeded to Konongo Odomase Senior Secondary School for "A" Level; then to the University of Cape Coast to study Economics. I graduated with BA (Hons) Economics. I furthered my education to GIMPA for Executive Masters in Business Administration. I have also been awarded Doctoral Fellow from the Chartered Institute of Financial and Investment Analyst, Ghana. I am married to Grace Sarfo Kantanka with three children: Harriet, Sammy and Akwasi. I have one granddaughter, Maame Afia.
TRB: On behalf of the Editorial Board, we want to thank you for granting us hearing for this interview
SSK: You are welcome
TRB: How did your banking career start?
SSK: After completing my national service atAntoa Senior Secondary School, I attended an interview at the Ghana Police Service Headquarters in Accra where I met the late Edward Adu Aboagye, very good friend and a course mate from UCC who informed me of a job opportunity at the Ghana Co-operative Bank. I got the job and was posted to Kumasi as a Management trainee on 15th June, 1987.
TRB: Can you share an experience at Co-operative Bank with us as a young Banker?
SSK: My first trainer was the Branch Messenger who took me through handling of counter cheques. I remember the young man sending me on an errand to buy roasted plantain and groundnuts. The ladies in the office made fun of me for running errands for a messenger but then, that was how I humbled myself to learn on the job. I was privileged to have worked under experienced and strict managers (Mr. Boateng from Barclays Bank, Mr. Adu-Takyi from Stanchart and Mr. Quaye from Ghana Commercial Bank).
Out of eight (8) graduates who were employed, only three (3) were left after the period of training. The others had their appointments terminated or were dismissed due to fraud, malpractices and poor work habits.
RB: From your days at Co-operative Bank, what significant developments have emerged in the banking industry?
SSK: Banking has moved from the use of manual ledgers to the use of banking software. Technology and product innovation have made it possible to transact banking business from our homes, ATMs and POS. We enjoy convenient services like SMS and Email Alert systems.
TRB: You started your banking career with a Commercial Bank, moved to Savings and Loans company. Can you let us know what informed you to join a rural bank?
SSK: I left Ghana Co-operative Bank due to job insecurity, even though I was appointed to manage the biggest branch. The bank was going through many challenges and as a young Officer, I had to plan for the future. Two (2) months after I had resigned, the bank was liquidated. My move from Savings and Loans Company to join a rural bank was to occupy a higher position with higher responsibilities.
TRB: You joined Atwima Kwanwoma Rural Bank in 2010, top executive appointment in the rural banking industry is mostly internal; as a new "external person" how did you assimilate into the terrain?
SSK: Yes, that is true. I must admit I had a lot of cultural shocks. The bank was going through many challenges. Most of the staff were finding it difficult to respond to change and wanted the new leader who will maintain the status quo. The challenges included weak internal controls, staff attitudinal problems, weak enforcement of the Human Resource Policy Manual, high Portfolio at Risk, poor loan monitoring and recovery, high cost-to-income ratio, ICT and systems related challenges.
TRB: Having outlined some of the initial challenges, can you brief us on the strategies that worked the magic.
SSK: As a product of UCC, I resorted to regular training for the staff and ensured that communication was Bottom-Up Approach. We intensified branch meetings and responded to the issues raised swiftly. One significant training area that has been consistent since is risk awareness training for every staff including Security Officers and Messengers. Mr. Joe Appeah of Pentax Management Consultancy who was the Board Chairman then together with his able Board members were determined to ensure that we deal with the challenges for positive results.
TRB: What specific Communication tools did you adopt
SSK: I used Annual Staff Durbars a lot and also used Annual Shareholders' forum, whiles I reviewed and developed key operational policies such as Credit, Procurement, Risk and Compliance, Human Resource andaudit.
TRB: Can you say that the strategies have yielded results?
SSK: Very positive results. The most important is the Atwima Kwanwoma Rural Bank (AKRB) Brand. We are a respected institution in the industry with both local and international recognitions. Ever since I joined the institution, there has not been a single year without an award. We have given shareholders value for their investments, since our dividend per share see positive increase every year. We have been able to expand our branch operations with the opening of Alabar, Sokoban and Kronum branches. This also means we are giving jobs and livelihood to Ghanaians. Our Corporate Social Responsibility activities speak for itself and we have been a good corporate citizen by ensuring prompt payment of our taxes to government.
TRB: For about two (2) years now, Amenfiman Rural Bank from the Western Region has overtaken you in deposit mobilization. Are you worried about that?
SSK: We are not worried; we wish to commend the bank's leadership. However, remember that we are operating in different economic environment. Do not forget the oil business in the Western Region as well as 'galamsey' which led to high propensity to save in respect of their customers and their related businesses.
TRB: How do you intend to catch up with them?
SSK: Whiles commending the leadership for taking advantage of the economic environment; AKRB is not going to relax but we have at our last Strategic Committee Meeting taken some pragmatic measures that will see us very soon at the top in terms of deposit mobilization.
TRB: They have moved to Ashanti Region and they continue to expand their operations in the region. Does AKRB have plans of moving beyond Ashanti Region
SSK: Their move to Ashanti Region means that there exist unbanked populations in the Region for successful banking operations. We conduct due diligence before we open a new branch and if we find a strategic location outside the region where business will yield good returns for our stakeholders, I believe the Board will not hesitate to consider it.
TRB: Can you confirm to me whether you are a member of the Council for the Association of Rural and Community Banks-Ghana?
SSK: Yes. I represent Managers in the Middle Zone on the Council
TRB: Congratulations
SSK: Thank you
TRB: What is the primary aim of the Association
SSK: The primary aim is to play advocacy role for Rural and Community Banks.
TRB: How does the Associationcollaborate with ARB Apex Bank to spearhead issues affecting the industry?
SSK: There is a strong collaboration between the two (2) bodies. A recent move is a delegation from the two (2) institutions to Bank of Ghana to negotiate for an extension of the deadline for Rural Banks to meet the minimum capital requirement.
TRB: Since the increase in corporate tax from 8% to 25%, what steps has the Association taken to see a reduction?
SSK: Several petitions have been sent to the Ministry of Finance and discussion with various stakeholders and top Government Officials to consider a reduction of the new tax rate.
TRB: In your opinion, what alternative measures are available for rural banks who are not likely to meet Bank of Ghana's directive to increase Stated Capital to GHS 1,000,000 by December, 2017
SSK: The Governor of Bank of Ghana at the 6th Rural Banking Week at Kpong in the Eastern Region promised to extend the time. Should this happen, RCBs who have not met the minimum capital requirement of GHS 1,000,000 should embark on intensive share mobilization. They should appeal to the public to invest in their banks by buying shares. Another alternative could be mergers and acquisition.
TRB: There are numerous challenges that face the industry, which one is very pressing and how well can it be addressed?
SSK: Poor corporate governance. I believe that, though there are myriad of problems in the industry; if there exists good corporate governance by way of capable Board members and management; those problems could be addressed squarely.
TRB: How can the rural banking industry position itself in the midst of tight competition in the banking industry?
SSK: Competition is good because it pushes one to always think outside the box for innovative ideas. Rural banks should begin to be innovative in service delivery, product development and brand management. Innovation is the catalyst for sustainable growth and development and this was seriously addressed at the last Managers' conference at Volta Serene Hotel.
TRB: Any advice to your fellow Managing Directors?
SSK: "Whatever you do, work at it with all your heart, as working for the Lord, not for human masters since you know that you will receive an inheritance from the Lord as a reward, it is the Lord you are serving" (Colossians 3:23). I encourage my fellow Managing Directors to be good stewards who work with humility, honesty and obedience.
TRB: What is your message to your staff, customers and well wishers.
SSK: May the Good Lord take care of all your needs. Touch your life with joy and contentment. Bless your heart with love and faith. Comfort your soul with inner peace and grant all Managers and staff good health.
Thank you very much for the opportunity.
| | |
| --- | --- |
| | |