A passion for service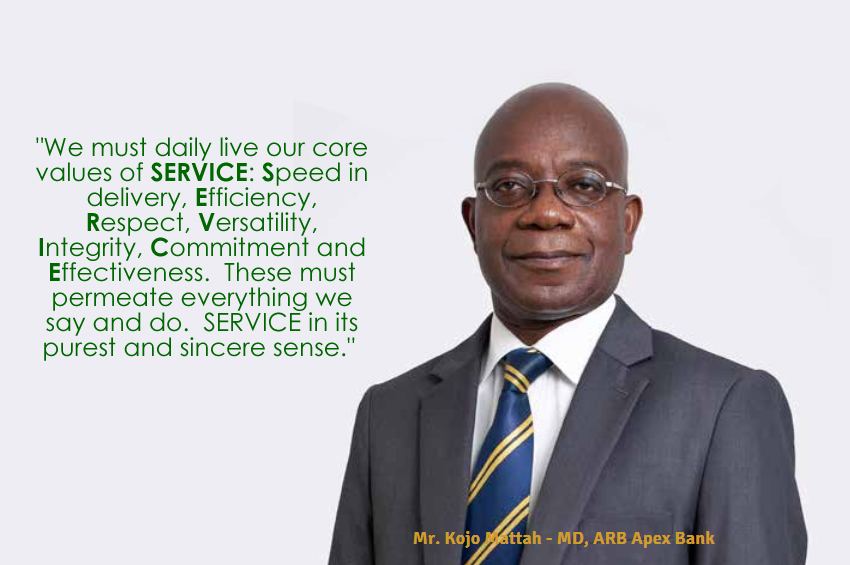 There is no gainsaying that our raison d'etre is to serve the RCBs to be able to serve their customers. When we do this, we have not done anything extraordinary, we have just fulfilled our basic reason for existence. Most often, we think we do favours when we serve customers. Meanwhile, without their custom, we would not be in business. Which is why I was so excited when the ARB Apex Bank staff came up with the 10 cardinal pledges for service. I believe when we all imbibe these as our measuring rods, we would never be found wanting.
Service with confidence, service with integrity and service with respect. Service that would make the customer give us repeat business as well as referrals.
We do not need any reminders that the financial services terrain is experiencing very severe competition and that the worst is yet to come. Rapid changes in technology is pushing all the frontiers at break-neck speed, and we have to be firing on all cylinders to keep up with it. We cannot therefore relax in our search for excellence, not even for a little while. We must be running to be at the same place.
We must daily live our core values of SERVICE: Speed in delivery, Efficiency, Respect, Versatility, Integrity, Commitment and Effectiveness. These must permeate everything we say and do. SERVICE in its purest and sincere sense.
To be able to achieve this, it is important for our service providers, in whatever form and size, to take a cue from our resolve to render unalloyed services to our customers and provide us with same, because their failures would result in our failure.
Much as I believe in thinking out of the box, I feel we can take it a notch further and remove the box. In this case, there is no limit. As Albert Einstein said, we cannot solve our problems with the same level of thinking that created them. We must know that the successes of the past belong to the past. The future belongs to the sharp and agile, which is why we must be up to date, and even take a peep into the future before it arrives. The need for a paradigm shift is now.I would encourage our customers to exact quality services from us as a matter of right... this is our pledge... from the car parks through the banking halls to the executive floors, we pledge to serve!!
| | |
| --- | --- |
| | |